TealBackup
1.11
Backup your valuable data with TealBackup, supporting manual and automatic backups to SD/MMC/CF cards and Memory Stick, backups through HotSync, and optional compression and encryp
Last update
20 Mar. 2006
Licence
Free to try |

$16.95
OS Support
Mobile
Downloads
Total: 214 | Last week: 0
Ranking
#160 in Utilities
Publisher
Tealpoint Software
TealBackup Publisher's Description
Protect your data from loss: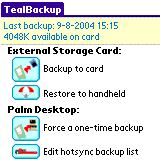 Backup and Restore
Backup your valuable data with TealBackup, the complete back up, copy, and restore system. With exclusive support for both external card and HotSync backups, you have full control over where and how files are saved. Plus, the combo of manual and automated card backups helps keep your critical files safe, even if you're miles away from a computer.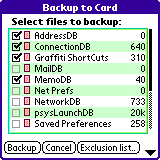 Feature Highlights
Card Backups
HotSync Backups
SD/MMC flash compatible
Compact flash compatible
Memory Stick compatible
MemPlug flash compatible
Dual automatic timers
Incremental backups
Blowfish encryption
Compression
Multiple folders
Exclusion lists
Inclusion lists
Backup logs
PalmOS 5 compatible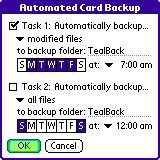 Special Functionality
Features include backups to SD/MMC/CF cards and Memory Stick, backups though HotSync, manual backups, incremental backups, dual-timer automatic backups, optional encryption, optional compression, multiple backup folders, exclusion lists, inclusion lists, and backup logs.

TealBackUp is PalmOS 5 compatible and works with all popular devices including Treo, Tungsten, Zire, Sony, and Kyocera handhelds.


A leading provider of software solutions for handheld devices, TealPoint Software currently offers 26+ productivity products for the PalmOS platform. Selections include TealDoc, the superior document reader, TealMovie, the award-winning multimedia player, TealAuto, the complete vehicle service and expense log, TealPhone, the replacement address book, and TealLock the definitive PalmOS security solution.


Take advantage of TealPoint's Free 30-Day Trial Policy on all products.
Look for Similar Items by Category
Feedback